Stand Alone Solution Applications
Companies spend hundreds of thousands of dollars trying to make their companies match a ideal state. Complicated software is designed and purchased and forced out into the field. What people need are tools that they can use, quickly and efficiently. These applications represent tools that have been created to for the working person to accomplish this goal. From everyday and familiar Microsoft navigation to ease of installation, these tools are focused on gathering information and returning it. Advanced techniques do not need a high priced software to make it useable.
*Click on the image for application manuals. Adobe Reader Required. Examples open in a separate window
Implementation Planning Application
A database applicatioin that organizes four major areas of a typical MIS implementation.
The first is a simplified project planning and reporting tool. This tool utilizes a two level design to identify project milestones and their completion in the project.
The second module organizes the system's documentation so that it can be used in training and easy method of categorizing specialty procedures that are created on-site.
Third, the application organizes training sessions and creates the documentation necessary to run a training program.
Finally, an issues section is used to document, assign and track implementation problems as they occur along with their resolutions.
The program is perfect for small implementations or for on-site management in conjunction with an larger implementation team.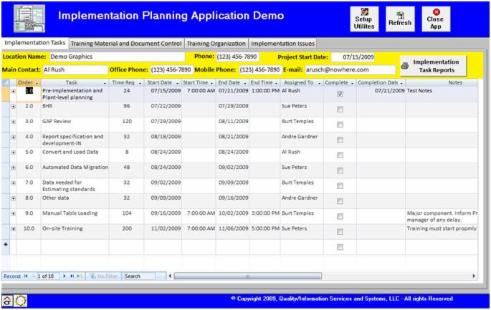 Corrective Action Application
This simple tool leads an investigation team through the steps necessary to reaching concussion and recording the action plan to remedy the problem. Further, through the use of concise reports and email capabilities, the program is designed so that the solutions only populate a dusty binder on someone shelf.
The Corrective Action (CAR) Application is an investigative tool that is a necessity for a well run Quality Assurance program. While a CAR program is part of an ISO program, very few programs have as dramatic effect on an organizations operation or profitability.
Investigating, documenting and developing plans to prevent errors from reaching a customer is one of the most valuable tools in the QA quality tools box. When a company takes an organized approach to errors, localized fire fighting and band-aid solutions become unnecessary. Eliminating repeated errors is accomplished by publishing documented solutions and sharing those solutions with everyone.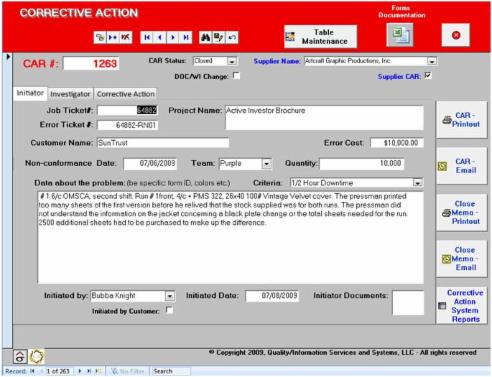 ISO Compliance Application
The ISO Compliance Application was created to allow an organization to easily, and inexpensively, implement, track and manage the major areas that are required for an ISO 9000 quality program. The program is designed to assist an operation in achieving a certification or developing a quality program that adheres to the standard.
The application covers:
Document control and approval

Corrective Action program

Supplier Certification and vendor management

Instrument Calibration

Employee training
Each company's certification requirements are different and should be developed in conjunction with the written standards provide by the International Organization for Standardization or the certification organization. Depending on the requirements, custom configurations are available.